Barbarian: Not an Average Haunted House Movie
This movie will make you think twice before booking that AirBnb
In his horror debut, writer and director Zach Cregger gifts audiences a fresh take on the haunted house movie with his 2022 film Barbarian. Cregger, who comes from a comedy background–such as the sketch group The Whitest Kids U' Know–is new to the scary movie scene. Despite this, his writing and directing in this film will leave you thinking he's been doing this for years. Barbarin is a bonkers new addition to the genre, with twists that will make the audience's jaws drop and even some comedy from Justin Long that will make people either exhale through their nose or laugh out loud. Whichever person you are, this movie will still leave you feeling uneasy but completely satisfied.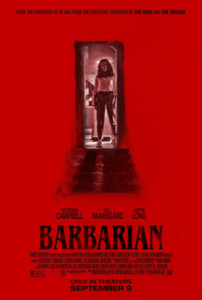 Tess (Georgina Campbell) arrives at her rental home in Detroit to find a man, Keith (Bill Skarsgård), already staying there. Realizing they were double-booked, Tess reluctantly accepts Keith's offer to stay the night. After finding a hidden cellar below the basement, Tess will find that there is something scarier in that house than having a stranger as her roommate. Just when Tess and Keith are starting to rub off on the audience, A.J, an actor under investigation for sexual assault and the houses owner, shows up. With this new, and oblivious, house guest, the terror starts.
Even with some cliche scares, like a door opening and closing on its own or a dark stairwell, Barbarian still finds time to harbor gut-churning gore and extreme WTF moments. Cregger is able to turn classic horror movie tropes, such as 'a girl goes into the basement alone', into a wild ride of a movie. He pulls the audience in every direction possible, making the best viewing experience in a theater filled with other people. And nothing will prepare you for the twist of the movie. In a time when movies are not exactly what they used to be, unexpected and exciting, this one will revive your love for the art.
But even cliche scares can't take away from the unsettling horror that Cregger piled into this movie. The horrifying scenes are balanced with the comedic timing of Justin Long, who is no stranger to funky horror movies. Having been in movies like Tusk and Jeepers Creepers, Long is a familiar face for fans of scary movies. Though this character, A.J, is not wildly similar to his other work, he somehow plays an asshole convincingly well. Justin Long pulling a tape measure down the dark cellar stairs to see how much more money he can pack onto rental price is a highlight of the movie. With a perfect combination of scares and laughs, Cregger has created a movie that is a breath of fresh air for horror fans.
As much as audiences can laugh at A.J, Tess is the true star of the movie. While she starts the movie out making the 'stupid' decisions that causes the audience to groan, she quickly turns around to become the heroine of the movie. Something Tess never loses throughout the duration of the movie is her want to help others. Instead of being an 'every person for themself' person, she is able to carry the movie while being a voice of reason and leading the situation. She is a wonderful addition to the 'scream queens' of the genre that fans love.
Extra points are given for the cinematography, which is another major highlight of the film. The camera will peer into a doorway, giving the audience a feeling of being in the cellar with the characters. The use of red lights and doorways completely filled with black keep the audience on edge.
Even with the inexcusable actions of the true antagonist, this movie still finds a way to harbor sympathy from its audience. Themes such as abuse and redemption are present, making audiences feel bad for each character in some way, but also hate them in many more ways. The villain of the movie, who will remain unspoiled, really does seem to be a misunderstood character. Their past is what drives them to commit the violence seen in the movie, which gets explained about halfway through. With such heavy themes and character background stories, it's not hard to see how this movie can make you leave feeling depressed. Cregger accomplishes this with his incredible storytelling and the pure adrenaline that horror movies give.
Cregger hit a home run with his debut, making $10 million at the box office opening weekend alone. It even has a Rotten Tomatoes score of 92%, a high score for a scary movie. Barbarian gives horror fans hope that more bonkers, twisty movies like this one are to come from Cregger and from other directors. What could've been a normal haunted house story was turned into the most jaw dropping horror movie of 2022.