Billie Marten on Tour: An Act of Love
Billie Marten needs to do nothing more than walk onto stage to entrance an audience. On a rainy June day in Philly, her presence wraps The Foundry in a sense of communal calm. The haunting ring of bamboo and seashell wind chimes skate over gentle guitar plucking. Marten's voice glides through the poignant lyrics of her opening song, "This Is How We Move," and lulls the audience into a buttery, hazy daydream.
As she drifts through her first songs, Marten's long, blonde hair catches the shifting stage lights, emitting an aura-like glow around the 24-year-old singer from Yorkshire. Her presence on the stage is so natural that it's almost as if she sprouted in front of the microphone, acoustic guitar in hand. In some ways, she did. Her debut EP, Ribbon, came out soon after Marten's fifteenth birthday. Nearly a decade later, she has put out four albums, the most recent being an intimate declaration of love, Drop Cherries.
During her live performances, Marten guides the audience through the experience of precious love that the album embodies. She handles each song with such gentleness that the care and love written into them becomes tactile enough to join her on stage. "God Above" is an especially personal depiction of romance; with backing vocals courtesy of opening act Olivia Kaplan, Marten's crisp soprano trill nearly outshines the beauty of the lyrics. But not quite. Even the effortless ease of her vocals can't distract from lyrics like, "Let lips do what hands do / And palm-to-palm give me my sin again / oh-no, oh, oh, oh / I know God above / 'Cause I saw her there / I am dreamin' of / her golden hair."
With this being Marten's first time in Philadelphia, the crowd is well aware that they are witnessing something incredibly special. Everyone in the room is starry-eyed and staring up at Marten as if she is some kind of apparition that might fade if they look away. If Marten feels intimidated by the sheer amount of adoration, she doesn't show it. Her comfort in front of the audience adds to the coziness of the night. Early in the set, Billie poses a question to the crowd, "Is anyone in love?" She is met with a tentative whoo. She smiles then and says, "You weren't quite sure, were you?" It is ironic considering the enamored silence with which they watch her. It is clear that her music captures their hearts. Watching her on stage, they see their love reflected back at them.
But the love-drenched Drop Cherries isn't the only thing on the night's setlist. Marten performs samples from her previous albums, including plenty of fan favorites. "Vanilla Baby" and "Mice", both from Feeding Seahorses by Hand, inject the audience with enough excitement to draw them out of their hypnotic affection for a brief moment. These songs are weighted with angst and longing, but their melodies and lyrics are just as gorgeous as those from her fourth LP.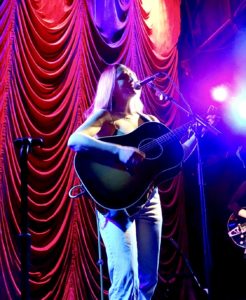 On the slightly elevated stage of The Foundry, Billie Marten appears both otherworldly and down to earth. Her dreamy voice and ethereal melodies are interspersed by refreshingly genuine moments. During one of the songs that she performs without any accompaniment beside her own guitar, she pauses before admitting that she forgot the words to the final verse. She just laughs it off, and the crowd giggles with her, all of us part of the same inside joke. Marten conducts another unifying moment near the end of the set. She splits the audience in half and teaches one side a melody of ooo's and the other side the harmony. Marten trusts the makeshift-chorus enough to let them guide the undercurrent of the song while she floats her lyrics on top. Audience participation is by no means a novel idea, but rarely does it feel like you're creating something with the artist.
Drop Cherries is a gorgeous love album and hearing it live is like an invitation to explore Marten's heart—it is a chance to be enraptured by love. Although Marten's first headlining tour in North America has come to an end, listening to her discography is a divine and personal experience that I could not recommend more.