Olivia Rodrigo is Still Figuring Things Out (and Spilling Her Guts in the Process)
When Olivia Rodrigo burst onto the scene in 2021 with her debut album, Sour, she became one of the most celebrated pop artists of recent years. Sour's raw exploration of heartbreak and teenage girlhood earned her three Grammys and critical acclaim, not to mention millions of adoring fans. People all over the world connected to the brutally honest confessions of an 18-year-old girl from Temecula, California, seeing their own experiences reflected in her lyrics. But in the wake of her smash hit, Rodrigo's life became drastically different from that of the average teenage girl: Performing to sold-out crowds of thousands, being named Time's 2021 Entertainer of the Year, and even performing "Uptown Girl" with Billy Joel himself. Naturally, this raised a question about her next release: Would Rodrigo be able to hold on to the relatability that made Sour such a phenomenon?
On September 8th, over two years after Sour, Rodrigo released her highly-anticipated sophomore album, Guts. Composed of 12 songs, with a runtime of just under 40 minutes, Guts follows 20-year-old Rodrigo as she continues to dissect the experiences that come with being a young woman in the 21st century. She's diving into all her afflictions, like relationship woes, impossible beauty standards, stifling gender roles, and the painful awkwardness of growing up and becoming an adult. Despite her newfound celebrity status, Rodrigo hasn't lost her accessibility. In fact, she's only gotten more vulnerable. On Guts, she's hurt, angry, confused, and not afraid to tell you all about it.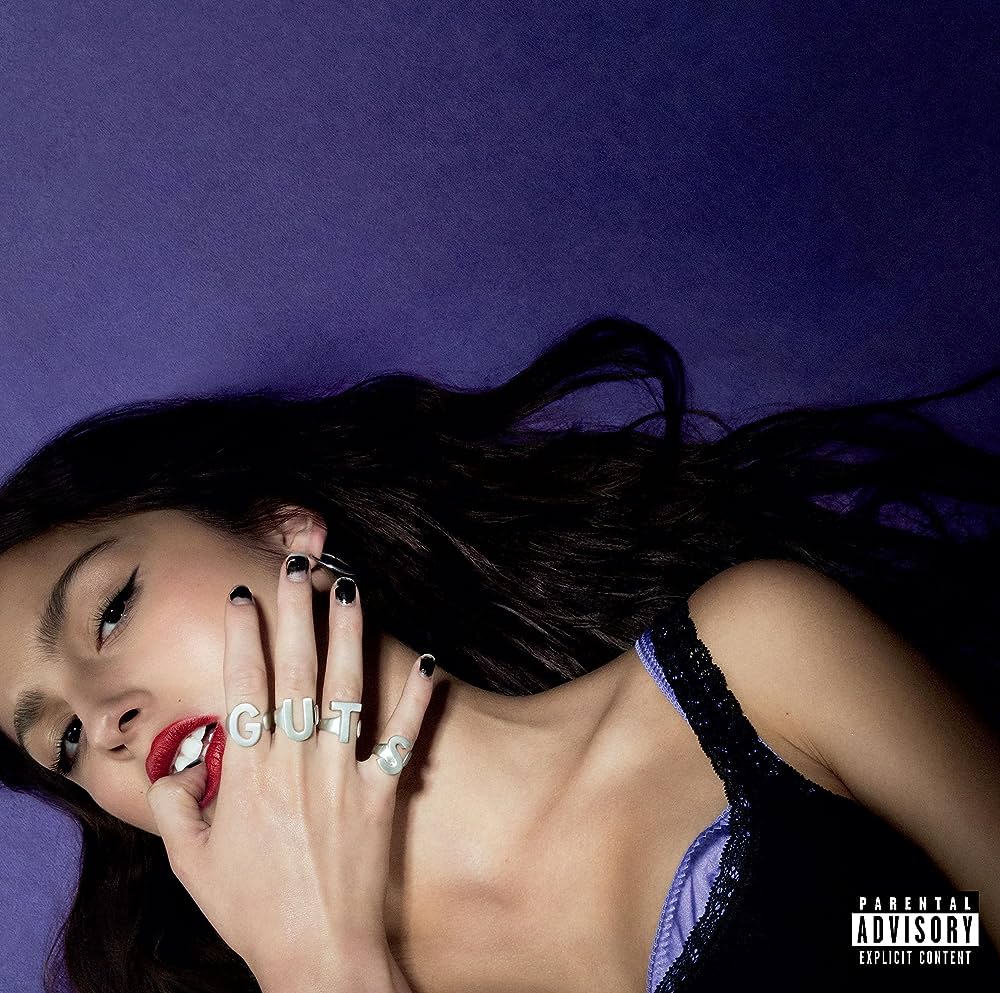 Rodrigo is reckoning with the weight of insecurities and impossible expectations. In "pretty isn't pretty," she calls out the inescapable beauty standards that women are held to, detailing her frustrations overtop angsty guitar riffs that remind one of The Cure. She describes covering her face with makeup, skipping lunch, and even taking prescription medication, but concludes that none of it matters because "you just feel like shit over and over again." The lyrics here tend to be slightly generic, even bordering on cliché at times, but there's an earnestness at play that really works. In "all-american bitch," she attempts to fit into the mold of the perfect American girl, underneath which lies her anger about being put into a box. The track makes great use of dynamic changes, switching between sweet, breathy verses where she sings about having class, integrity, and "love to spare" over an acoustic guitar, to a roaring chorus where a full band kicks in as she professes to be a "perfect all-American bitch." It's a choice that perfectly portrays the never-ending struggle that Rodrigo is describing.
Rodrigo turns the outrage on herself in the rock track "ballad of a homeschooled girl," ranting about the awkwardness she feels on a daily basis. A moody bass guitar plays as she lays out all of her social misfortunes, with the repeated profession that every time she goes out in public, it feels like "social suicide." In "love is embarrassing," she delves into the regret and self-consciousness of putting yourself out there only to get rejected. In the outro, Rodrigo admits, "I'm plannin' out my wedding with some guy I'm never marrying," using a lilting, playful tone reminiscent of pop artist Marina and the Diamonds. Both of these confessional tracks make use of lyrical dissonance, as the upbeat rock instrumentals contrast with dejected lyrics about social anxiety and being scorned by a lover. It makes for two complex, lively songs that are pure fun to sing along to.
Guts might not be a breakup album in the same vein that Sour was, but it doesn't completely forgo the heartbreaking ballads. "Logical," sees Rodrigo pondering the irrationality of love. In this emotional piano track, Rodrigo's raw, soaring vocals effectively portray the pain of being manipulated by a partner. In the heartbreaking final lines, she sings, "I know I could've stopped it all / God, why didn't I stop it all?" ultimately blaming herself for not exiting the relationship sooner. "Vampire," the lead single of the album, is a song about being used and taken advantage of. This searing takedown, which seems to pull influence from the dramatic passion of a Broadway musical, starts off with a solemn piano until a drum beat kicks in about halfway through, building in intensity to mirror the swell of anguish. The lyrics see Rodrigo eviscerating her toxic ex, calling him a "bloodsucker," a "fame fucker," and a "goddamn vampire." Lyrically, it's probably her most brutal track (no pun intended), and it's a great display of Rodrigo's talent for writing songs that pack a punch.
Some of the most entertaining moments of the album occur when Rodrigo uses a tongue-in-cheek playfulness to talk about dealing with ex-boyfriends. In "bad idea, right?" she describes meeting up with an ex, using a sing-talking style redolent of bands like Bikini Kill or The Waitresses. With lines like, "I only see him as a friend / I just tripped and fell into his bed," she hilariously emphasizes the unfortunate yet comical experience of backsliding into a past relationship. In "get him back!" she describes simultaneously wanting to get revenge on an ex and wanting to get back together with him, detailing her stream of conflicting thoughts over a wavy guitar and a punchy drum beat. In the bridge, she flip-flops between her two sentiments, singing, "I wanna key his car / I wanna make him lunch / I wanna break his heart / then be the one to stitch it up." The bridge builds in intensity before a choir of voices join her in the chorus, creating a truly electrifying moment. Rodrigo is having a rollicking good time, and it makes for the strongest track on the album.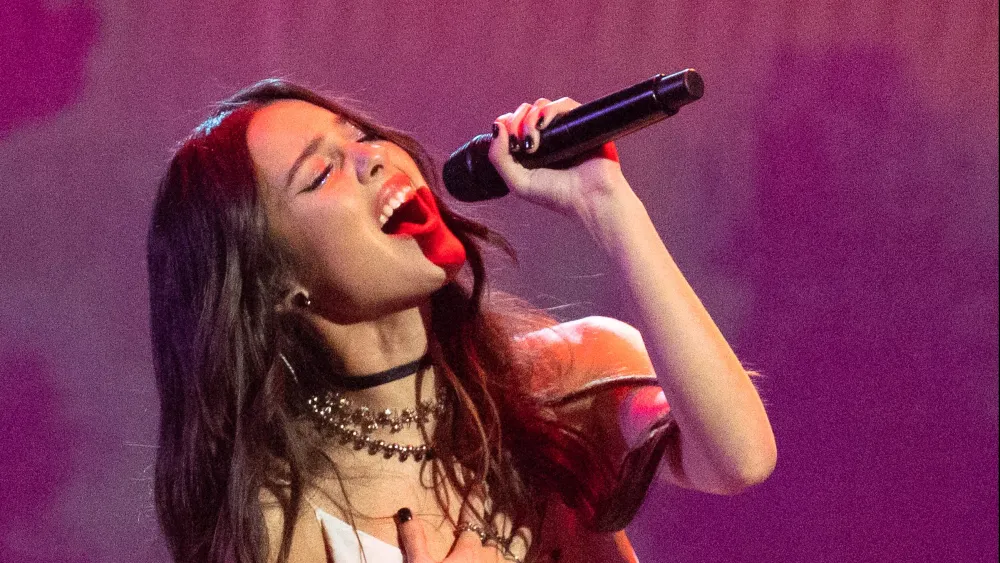 With Guts, Rodrigo is branching out, experimenting more with the punk and rock elements that we only saw traces of on her debut. The songs she has created this time around are diverse, energetic, impassioned, and an all-around joy to experience. On top of this, she has managed to maintain the elements of her artistry that made Sour special, like her powerful, impressive vocals and her lyrical specificity, which has fans crying over their own coming-of-age experiences. Rodrigo has encountered a level of fame and success in the past two years that most people will never understand. Yet, her tales of teenage girlhood haven't lost any of their authenticity or relatability. Rodrigo lays her emotions bare for us: crying over failed relationships, engaging in messy behavior with exes, and feeling confused about where she belongs. She might be one of the most famous and successful musicians in the world, but she's also just a girl trying to figure things out.
With the track "teenage dream," Rodrigo ends Guts on a question, repeatedly asking, "They all say that it gets better, but what if I don't?" She might be feeling uncertain about what lies ahead, but one thing is for sure: With Guts, Olivia Rodrigo has once again proven the power of her sincerity and established herself as a defining voice of her generation.