The Phantom of the Opera Forever Sings Songs in my Head
There are no sensations, no sounds, nor views that this world can offer me that can compare to the euphoric feeling I get when the massive curtains open and the powerful orchestra plays that iconic overture. Broadway's longest-running and award-winning show, The Phantom of the Opera, was originally supposed to close its curtains for the final time in February of 2023, but after ticket sales sky-rocketed, it now will be closing April 16th, 2023. The pandemic and inflation have made theater-goers hesitant to return and the cost of running the show too great to manage, resulting in the show's closure. This announcement made both 'phans' and people who wish to see the show rush to get tickets.
The week of Thanksgiving made the show's highest grossing week with $2.2 million, and I can say I contributed to that number as I watched the show at the Majestic Theatre on November 25th, 2022. Although the show isn't back where it should be (it previously grossed $41.7 million compared to the present $37.5 million) due to the pandemic, ticket sales are climbing, and I choose to be optimistic. Since my favorite show (and favorite piece of music and art to ever exist in general) is closing, I wanted to bring awareness to the truly moving, soul-seducing experience that is The Phantom of the Opera.
To give some context on how massively successful the show is and has been, the Majestic Theatre first played it in 1988, and it's still being played presently, with an audience of over 140 million people worldwide in over 30 countries. It has grossed over six billion dollars worldwide, is the largest job-generating show, and has won seven Tony awards, including Best Musical. There are over 40 million album sales, at least 15 different language adaptations, and the box office revenues are higher than any film or stage play in history, including Star Wars, Avatar, Titanic, and more. As you can see, there's something about this show that is universally magical. What is it about the phantom that makes people flock to the show? Is it Andrew Lloyd Webber's outstanding, seemingly heart-teleporting score and lyrics? Is it the amazingly talented current cast or the tear-inducing storyline?
This gothic mix of romance and horror is set in the 1880s at the Paris opera house and follows Christine Daaé, an opera singer who goes from being a chorus girl to the leading soprano after receiving vocal lessons from her mysterious angel of music. She thinks that this teacher is sent to her from her deceased father, but in reality, she has been receiving lessons from the phantom of the opera, a disfigured musical genius who lives beneath the opera house in the catacombs. The opera house is under new management, and the two managers are skeptical of the tales of the phantom that circulate around despite the efforts by experienced ballet coach Madame Giry to warn them. The previous manager allowed the phantom to run the opera due to his extreme musical talent, but Richard Firmin and Gilles André aren't so willing to cooperate with his demands. The more they disobey the phantom's wishes, the more violent disasters occur. Meanwhile, the phantom becomes dangerously obsessed with his star pupil, and when she begins to grow intimately close with her childhood friend and powerful patron Raoul de Chagny, her angel of music feels betrayed.
The story has been expressed in many different adaptations, from plays to films to television shows. The original story came from the French novelist Gaston Leroux who published his book Le Fantôme de l'Opéra in 1909. The book is based on true events as it was rumored that underneath the Palais Garnier there was a deformed man who committed atrocities, and in 1896, the infamous chandelier crash did in fact happen, killing one and injuring others. There is even a canonical sequel to Phantom from Andrew Lloyd Webber called Love Never Dies, but many fans disregard it. Despite the countless number of adaptations, the most popular one by far is Andrew Lloyd Webber's brilliant two and a half hour Broadway musical. This is my favorite version as well, with the 1990 television miniseries as an honorable mention, since it explores a new depth of the Phantom's psyche and origins.
The original cast consisted of Michael Crawford as the Phantom, Sarah Brightman as Christine, and Steve Barton as Raoul. Many people consider them as classics, but the 'phanbase' seems to favor the 25th anniversary cast as that cast proshot is the only one that is widely available, so accessibility plays a part in this as well as there are few bootlegs of the original cast. In this version, the Phantom is played by Ramin Karimloo (my favorite singer of all time,) Christine by Sierra Boggess (an absolute angel), and Raoul by Hadley Fraser (also very incredible). These three have the most awesome chemistry on and off stage, and not only are their otherworldly voices built for the roles, but they take the extra step and become their characters. The raw passion they put into their roles goes beyond any other performance I have ever seen. Many fans consider Ramin, Sierra, and Hadley to be the ultimate Phantom, Christine, and Raoul. This performance for the Classic BRIT Awards in 2012 is just a small taste of the intense magnitude of their talent.
Before I write about my experience seeing the show live, I think it's important for me to fully express what The Phantom of the Opera truly means to me and why I'm obsessed with it. There are so many layers of why I love the show, and it all began when I was a child. I grew up with a strange interest in the dark and unusual (thanks for my father who is a horror author), and one night, my father showed my sister and I the concert film of The Phantom of the Opera at the Royal Albert Hall for its 25th Anniversary. I was just ten years old, and my sister was seven at the time, but both of us were entranced with the entire film. There was something so magical about what had just transpired on the screen – something I felt in my soul at only a decade old. My sister and I saw the musical live with our father just two years after we were introduced to it, and it became a strong bonding point between the three of us. But that's just the beginning.
As I grew up, and even starting from just ten years old, I found myself as musically gifted, most notably on piano, without knowing anything about theory or without any prior lessons. Music just seemed so natural to me; I sat down at the piano and knew how to play. It's something I can't explain. When I heard music, it took me to a place of unparalleled delight, but when I composed and played my own music from the notes in my head, it gave me a kind of power that teleported my soul into a new realm of music. I began to compose at ten years old, creating both music and lyrics, and my father called me his angel of music. It surely had been as though I was visited by an angel of music, a phantom of sorts. I could play any melody from ear. I couldn't read music notes like most musicians; I could feel them. I surely don't know where I learned piano from as I had no internet, lessons, or any kind of knowledge of piano other than what my dad could play. But the absolute greatest music I could ever experience was the music from Phantom. Currently, my world of music has greatly expanded, and I expect myself to do great things with it.
But my connection to Phantom doesn't end there, and this is where my story turns sad. My life became eerily paralleled with the story, down to the obscure details, from sixteen years old to present. The mask and rose symbolize my entire life. I will be scarce with this explanation for obvious reasons, but to put it shortly, I found the angel of music. He was a musically genius man, though shunned by the world like the phantom, and he taught me more about music and love than I ever knew before. I have to admit he made me a greater musician than I was before because he showed me what living and true passion was, and you can't write music without passion. Our love grew increasingly very intense over the past decade, and we shared a once in a lifetime beauty in the dimension where only music and haunting darkness – such reality-defying, unwritable darkness – existed, but that same darkness overtook him, and I couldn't save him. I couldn't continue following him into the catacombs (almost literally) where there would be no more light. He hid behind a mask, one even I couldn't remove. I was lost in that world of night and magic we created, overcome with the most unsettling, scariest side of music and myself… But then I found the light once again during the summertime. I found my Raoul.
When I listen to the lyrics in The Phantom of the Opera, I hear my life, and that's why I love it so much. I literally have the words 'Angel of Music' tattooed under my collarbone because of how deeply it resonates to me. I also have an increasingly massive Phantom collection which consists of playbills and rare collectible merchandise. As you can tell, I'm one of the biggest 'phans' out there for way too many reasons to even write.
My family and I visited the Majestic Theatre in New York City on November 25th, 2022 to see The Phantom of the Opera performed live. The theater was beyond packed, but the thrill of seeing the giant mask and rose outside the building gave me heart palpitations. Once the lights dimmed when the show began and the first word, 'sold,' echoed in the silent theater, my sister and I freaked out. Language is supposed to be a way to communicate emotion and thoughts, but language cannot give justice to the feelings I experienced when the overture began playing. It was like seeing my childhood, my nostalgia, my musical soul, my love, and my life come to existence on one stage.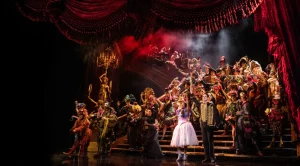 The cast performed perfectly, the fire mechanics were amazing to watch, the colorful dresses and props were so splendid, but the music… The music was phenomenal in every aspect. Andrew Lloyd Webber's carefully crafted lyrics took me to a new place, and when the musical ended, I was brought back to reality. If a piece of art can make me feel that strongly, then I can see why it is as popular as it is. An example of a neat aspect of seeing the show live versus seeing it on a screen is that when the phantom travels around the theater, his voice literally follows him. It feels like he's there behind you – all around you. It makes you feel like you're an interactive part of the experience. When the phantom cuts down the chandelier, it literally falls inches above the audience's heads. His atrocities are felt by the audience which can't be experienced if you're just watching the recorded concert.
The current cast of Phantom did such an amazing job of becoming their characters and coming to life on stage convincingly, and their vocals were not only great, but they all had their own unique qualities that complimented their characters well. In the show I saw, Ben Crawford played the Phantom, Julia Udine played Christine, and Jason Forbach played Raoul. I think it's important to mention that Emilie Kouatchou also plays Christine in different shows which is a great representation of diversity as she is the first black Christine on Broadway! I was very pleased with the current cast and was enchanted throughout the entire performance. Ben Crawford's accented voice was something I was not expecting, but it added a unique aspect to his Phantom that gave him his own personality. Another notable vocalist of the show that really impressed me was Raquel Suarez Groen who plays Carlotta Guidicell as her powerful, operatic voice filled the theater. The story itself remained the same throughout the show, though of course in every performance of Phantom, each cast makes its own funny ad-libs and adds little unique one liners. I cried many times throughout the show, especially during "All I Ask of You" and its reprise, and then I cried continuously throughout the second act. Every time I see the show, the story is the same, but each cast makes it its own, and the current cast certainly takes the beloved story and plays it to perfection, so I recommend buying tickets and seeing them before the show ends.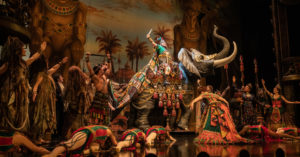 In the end, all I ask of you is that you see the show before it closes. Even if you're not an extremely dedicated fan, just seeing the show live is a memorable experience that you will cherish for a lifetime. Although The Phantom of the Opera is closing on Broadway, the show will continue to exist on the West End and on tours along with several other productions that are to open, including Mandarin and Spanish adaptations. With the show's 35th anniversary coming up in January next month, the show is sure to be commemorated in a special way. Once you have seen it, you're past the point of no return to your former view of music. Between the interactive experience, the special effects, the brilliant cast, the emotional story, and the music itself, you're bound to feel the music of the night. And if you're lucky and cursed, maybe you'll find your angel of music.