Peacock's Poker Face Offers a Fresh Take On the Murder Mystery
With what now seems like an infinite assortment of streaming services, it can become difficult to discern what is actually worth watching and what can be ignored. NBC's Peacock, which hosts classics like The Office, Parks and Recreation, and That '70s Show, isn't necessarily known for its streaming originals. But one new star has joined the ranks: Rian Johnson's Poker Face.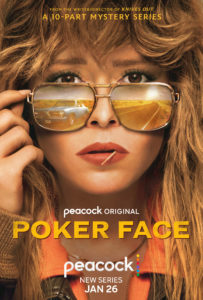 I've seen ads for Poker Face on just about every social media platform I have. The series, written and directed by Rian Johnson–of Knives Out and Glass Onion fame–stars Natasha Lyonne as Charlie Cale, a woman with the uncanny ability to tell when anyone is lying. Releasing weekly on Thursdays to Peacock, Poker Face is currently just over halfway through its first season.
Each of the episodes, which average about fifty minutes to an hour, show Charlie going into a new murder mystery with different casts of characters–much like Knives Out and Glass Onion, where private detective Benoit Blanc moves among ensemble casts to solve a murder. That, though, is where the similarities between Johnson's works ended for me; Charlie is prone to cursing, a person of interest in multiple states, and a fairly relaxed person. She's funny and kind, but still sharp-minded and insightful. Natasha Lyonne is a pleasure to watch; it's almost impossible to dislike her character.
The first episode does a nice job of setting up the story structure for the rest of the season. The show falls into the "inverted detective story" format popularized by Columbo, a detective series that began airing in 1968. The first ten or so minutes are dedicated to showing the audience the murder as it objectively happened; then we are transported back in time briefly, to see how Charlie has become intertwined with the situation. From there, we watch her move forward, using her skill and her brains to solve the murder before ditching the scene to head somewhere new. In an interesting turn from the ends of most mysteries, we don't always see the police show up to arrest the villain and save the day; Charlie herself is trying to avoid them, so she always manages to find new ways to enact justice. It's a refreshing and interesting way to tackle wrapping up a mystery.
Guest stars in the series include Stephanie Hsu, Adrien Brody, Joseph Gordon-Levitt, Luiz Guzmán, and more; the supporting cast is star-studded, and their roles, no matter how small, work to make the show even more enjoyable than it already is. The twang of a guitar often plays between dialogue, and the cinematography ranges from fast-moving shots of the many locations to stunning views from the road as Charlie travels the country. Though the murders themselves are shown on screen and range in their levels of violence, the show as a whole is still more a fun watch than a tense or frightening one. Johnson manages to keep the stakes high even though we know who the murderer is, and Charlie's easy-going, amiable personality invites humor and lightheartedness. With a revolving door of supporting cast members, we bond the most with Charlie, and she becomes a character worth not just rooting for, but loving.
On February 15, Variety announced that Poker Face has been officially renewed for its second season–meaning we'll be getting even more Charlie, mysteries, and guest stars. Lyonne and Johnson prove to be a stellar team, so there is definitely much to look forward to. With a stunning 99% on Rotten Tomatoes, Poker Face holds the promise of becoming a classic; and we're only halfway through season one.
You can watch Poker Face on Peacock, with new episodes streaming every Thursday.