When looking for shows to recommend, you try to find commonalities between them that draw them together. That could be visual, thematic, or even the creators behind it. The thread connecting the three shows today is that they are all comedies, and all of the characters within the shows are working in competitive fields working to become giants in their respective industries. And they're all hilarious…
If you like…
Dave
Dave is a show made by the rapper Lil Dicky, someone who is in a certain sect of the rap world, and that is comedy. That's why it makes sense that he's also got a foot in the TV world. The comedic style that shines in his raps, feels like it was an obvious precursor to what we see in his TV comedy writing. Dave follows a fictional version of Lil Dicky himself, Dave, who's self prescribed purpose is to be the greatest rapper in the world. You go with him on his ride of ups and downs as he tackles the trials and tribulations of the music industry. Dave of course has a cast of friends with him, his roommate Mike, his childhood friend Elz, and his new friend/hype-man Gata. This show hits all the marks for me, it's hilarious and very in line with Lil Dicky's humor. But it's not only funny, it's got great writing and storytelling as well with a protagonist who is driven toward being the best, which I have a soft spot for. You can find Dave on Hulu right now.
Then You Might Like…
Silicon Valley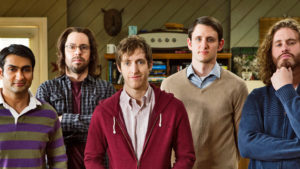 Silicon Valley is a show about the cutthroat nerd world of the tech industry in, well…Silicon Valley. Silicon Valley follows a group of software engineers who are just trying to be the next Bill Gates, or Steve Jobs. The main character Richard Henricks who creates an algorithm that blows away the tech giants in this fictional Silicon Valley. The rest of the show is all about how Richard and his team of smart buffoons try and create their own path. If you liked the way the characters in Dave loved and hated each other in their own bizarre way, then you will most certainly enjoy Silicon Valley. The thread connecting these two shows is a part of the draw here as well. Both shows will put you on the edge of your seat, rooting for the characters to win, or get out of sticky situations so that they can complete their dreams.
If you like either of these two shows,
Then You Also Might Like…
Hacks
Hacks was a late addition to this list of recommendations. As I was writing about the other two shows, this sleeper hit popped into my head. Hacks follows the theme of being funny and wanting greatness, although it goes about it in another way. The show is about a young comedian named Ava who is forced (by their agent) to write for an experienced Deborah Vance who has a residency in Vegas. The theme of wanting greatness goes both ways in this show. We meet Deborah who claws her way up to the top of the standup game and then starts to phone it in— she's trying to reclaim her greatness. While Ava, the young comedy writer is still trying to find her own greatness. This show is hilarious and has a lot of heart, and I think you might enjoy it if you liked either Dave or Silicon Valley you might like Hacks. You can find Hacks streaming now on HBO Max.
These shows are all hilarious, but still have dramatic weight in some way or another. These shows are pretty short, with the exception of Silicon Valley, which has six seasons. Dave has 2 seasons and Hacks with only one. Please d o yourself a favor and watch one of these shows and if you like it, you might like the others.