You know that friend that won't stop recommending that one show they swear you will love? The hardest part is always seeing them again and having to think of an excuse to as why you haven't gotten around to it. Worry no more, we'll be giving you recommendations based on shows you already like, on a computer screen that you don't have to uncomfortably confront. Welcome to You Might Like…
If you like…
It's Always Sunny In Philadelphia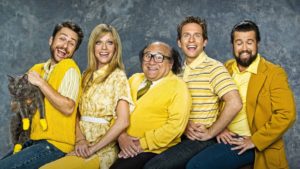 Rum ham, milk steak, golden gods, you might have heard these expressions throughout the years and probably have been very confused. Each one of those are long running jokes in the show It's Always Sunny In Philadelphia, the longest running live action sitcom. The show follows the gang, which consists of the siblings Dennis and Dee, their father Frank (played by Danny DeVito) and Mac and Charlie. The gang runs and owns Paddy's Pub, a dive bar in south Philadelphia. The show is going on its 15th season and has kept a consistent stream of hilarious antics funded by Frank. If you like a little bit of crude humor, and don't mind some touchy subjects being joked about, then watching the gang do things like try to sell gas door to door for profit will satisfy that taste. Give this horrible batch of people a watch if you want some gut wrenching laughs. You can watch all 14 seasons on Hulu right now.
And if you like Its Always Sunny In Philadelphia,
Then You Might like…
Seinfeld
Maybe you're too young to remember watching Seinfeld on TV, I know I was. That didn't stop me from watching and enjoying all 9 seasons of this NBC classic. The show follows four not-so-great people living in New York. A show about nothing and yet a show about so much. The antics of Kramer, George, Jerry, and Elaine may seem mundane but it means everything to them. If you enjoyed watching the wild situations the characters of Its Always Sunny got in, then you might like the banal situations these four get into. Seinfeld was a show of the 90's and you can feel it, there are laugh tracks but the jokes are tight and it has consistent solid writing throughout its entirety. Seinfeld will be coming to Netflix at the beginning of October, 2021.
And of you liked either one of those shows,
Then You Also Might Like…
Arrested Development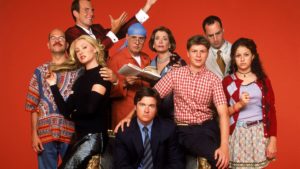 If you liked either one of the two shows above, and especially if you liked both of them, then I think Arrested Development would make you feel right at home. I don't know what it is that's so compelling about watching bad people do bad things, but we do, and we really like Arrested Development. When you want good, quick writing and jokes hitting you every scene, this is the show to put on. You could sneeze and miss a joke. The show follows the Bluth family and the fall of their Bluth real estate empire. Just as dysfunctional of a cast as the last two shows, but this time it's all about family. They say that blood is thicker than water, but the Bluths seem to run on something even thinner than water.
It seems that the theme today is dysfunctional families, whether they are a family, in a bar, or just living in New York City. These are some of the best comedy shows to have hit the TV airways. And if you haven't watched any one of these shows, do yourself a favor and watch it.