The Best Irish Movies to Watch This St. Patrick's Day
This St. Patrick's Day, the team here at Halftone wants to give you our favorite Irish movies we think will be perfect watches for the holiday. With genres ranging from drama to comedy to leprechaun horror, we've got you covered. Keep reading for recommendations from six of our staff writers and editors.
Brooklyn (2015) dir. by John Crowley
Gianna Forgen
Based on the novel of the same name by Irish author Colm Tóibín, Brooklyn tells the story of Eilis Lacey (Saoirse Ronan), a young woman in Ireland who immigrates to Brooklyn, New York in 1950 after her sister makes arrangements with a priest there who can get Eilis a job and a place to live. While at an Irish dance in Brooklyn, Eilis meets Tony Fiorello (Emory Cohen), an Italian plumber, and the two begin to fall in love. Shy and homesick, Eilis finds that Tony is able to make her feel comfortable and draw her from her shell. When a family member in Ireland suddenly dies, Eilis must return home despite realizing Brooklyn is where she wants to stay.
Along with the author of the source material, director John Crowley and leading actress Saoirse Ronan are also Irish. The film has received praise from critics and audiences alike, telling an honest and heartfelt story about immigration, homesickness, family, and love. If you're looking for a good drama/romance to watch, make sure to check out Brooklyn just in time for St. Patrick's Day.
Waking Ned Devine (1998) dir. by Kirk Jones
Kelli Hughes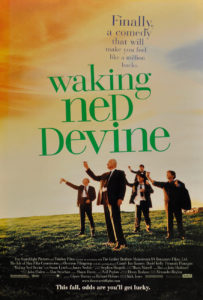 Slàinte! Cheers to good health and incredible Irish luck!
Except to the titular character of this 1998 Irish comedy who dies of shock after winning the Irish National Lottery. Not wanting the opportunity that befalls their small town to go to waste, best friends Jackie O'Shea (Ian Bannen) and Michael O'Sullivan (David Kelly) plan to disguise Michael as Ned so they can collect the reward. In order to fool the lottery's inspector, the entire town gets involved in the scheme, leading to humorous antics.
Waking Ned Devine sports a predominantly Irish cast, including Kelly—who was nominated for a Screen Actors Guild Award for his role—alongside James Nesbitt, Susan Lynch, and Fionnula Flanagan. The film is a feel-good comedy centered around a likable, quirky, and undeniably Irish community. With a very positive audience reception, Waking Ned Devine is fit for the whole family and perfect for a good laugh this St. Patrick's Day.
The Luck of The Irish (2001) dir. By Paul Hoen
Helaina Parejo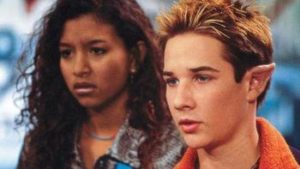 If you're looking for a movie that carefully handles themes of race, heritage, and identity, The Luck of The Irish is certainly not what you're looking for. Junior high basketball star, Kyle Johnson (Rayn Merriman), has always been a popular, star athlete; but not knowing his heritage haunts him. One day, Kyle's parents are forced to tell him the unbearable truth–he's Irish. Now, he and his family must track down a thieving, evil leprechaun and take back their family's coin which will restore their luck and prevent them from turning into leprechauns.
Kyle spends the entire movie learning about the plight of the Irish people while his Black friend and Hispanic love interest nod solemnly in the background, because of course, they have never faced adversity due to their heritage. With a plot as convoluted as it is problematic and inconsistent, the movie somehow manages to care more about funneling American propaganda to its Disney Channel audience than it does about promoting the importance of cultural diversity or Irish culture. When all hope is lost, Kyle reminds Seamus (the evil leprechaun) and viewers, "In America, we don't believe in kings. We believe in baseball." If you're looking to celebrate all the worst parts of American patriotism this St. Patrick's Day, The Luck of the Irish should be on your watchlist.
Leprechaun (1993) dir. by Mark Jones
Tyler DiCarlo
The only reason you watched this movie is because it stars a breakout Jennifer Aniston. Leprechaun follows Tory Redding (Aniston), an appropriately stereotypical valley girl, as she and her father (John Sanderford) move to a dusty North Dakotan farm and accidently awaken a hibernating leprechaun (Warwick Davis). The creature of Irish folklore goes into a murderous rage looking for gold and revels in tormenting his victims.
Leprechaun isn't a cinematic masterpiece: the supporting cast is stiff, multiple plot holes ruin any logical cohesion, and the entire one million dollar budget seems to have gone to Davis' makeup–yet it never tries to be perfect. The cast is able to keep your attention long enough between attacks and The Leprechaun's antics are sincerely memorable. A Nightmare on Elm Street's later entries seem to be the film's greatest inspiration; it balances scares and giggles, even paying direct homage to the Freddy phone kiss.
Leprechaun embraces corniness at every step. Be it pogostick murders or god awful special effects, this film knows its incredibly niche audience. While this movie doesn't offer any insights into Irish folklore, it still made me laugh.
The Banshees of Inisherin (2022) dir. by Martin McDonagh
Casey Wang
If all you've heard about The Banshees of Inisherin is its Golden Globe win for 'Best Motion Picture–Musical or Comedy,' consider this a formal warning: Martin McDonagh's fourth film is his bleakest yet. The British-Irish playwright and director is well-known for his blend of humor and violence, absurdity and despair, and in Banshees, he's in top form.
The premise is deceptively simple–on the fictional island of Inisherin, a lifelong friendship between Colm Doherty (Brendan Gleeson) and Pádraic Súilleabháin (Colin Farrell) comes to an abrupt end when Colm decides to cut all contact with the affable, but rather dull Pádraic. Pádraic is understandably hurt and confused, but pursues Colm with a stubborn, endearing loyalty, until his exasperated ex-friend lays down a horrifying ultimatum: if Pádraic won't leave him be, he'll take a pair of garden shears to his own fiddle-playing hand. The slow, brutal estrangement of these two friends plays out against a gorgeous backdrop of desolate farmland and rugged coastlines, with distant gunfire from the Irish Civil War echoing off the mainland.
Banshees is a hard watch, and in typical McDonagh fashion, the film presents little resolution, instead leaving viewers–and characters–in the wreckage of what once used to be home. But the dynamic between Farrell and Gleeson is entirely too captivating to look away from and McDonagh's craft is more sure and polished than it's ever been before. Dark, disturbing, and deeply compelling, Banshees is a film you won't forget.
Sing Street (2016) dir. by John Carney
Robin Dougherty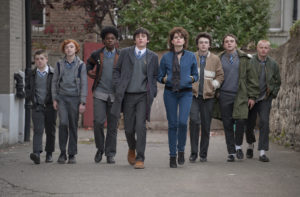 15-year-old Dubliner Conor Lawlor (Ferdia Walsh-Peelo) is a self-identified "futurist;" he doesn't believe in backwards, only forwards. Set during the middle of the Irish recession in 1985, John Carney's Sing Street follows Conor, whose only refuge from his parents' yelling is the music that his older brother Brendon (Jack Reynor) shows him. To save money, Conor is transferred to the Synge Street Christian Brothers School, where he's subjected to bullying not only from peers, but from the head priest Brother Baxtor (Don Wycherley). When Conor meets the beautiful and mysterious aspiring model Raphina (Lucy Boynton), he lies and tells her that he's in a band to impress her. Conor then recruits the following members (and Synge Street students) for the task: manager Darren, guitarist Eamon, keyboardist Ngig, bass player Garry, and drummer Larry. Dubbed Sing Street by Eamon, they begin practicing, with Conor and Eamon becoming a dynamic songwriting duo, and Raphina starring in their music videos.
Sing Street performs eight songs (my personal favorites are Up, Drive It Like You Stole It, and Brown Shoes) which are written specifically for the film by Gary Clark. Throughout the film, there is growth not only in each song that Sing Street performs, but in Conor's self-confidence and personal style. As Brendon exposes Conor to more music, Conor incorporates the styles of A-ha, Duran Duran, The Cure, and Hall & Oates into his fashion and songs. Sing Street is a heartfelt love letter to the music of the 80s, but also a story of finding yourself and chasing your dreams. It's an inspiring, feel-good movie about doing what you love and putting your heart into it.