Caroline Polachek Takes You To Her Island On "Desire, I Want To Turn Into You"
Desire is not unfamiliar to pop music, nor is it to Caroline Polachek's career. Her second album as member of the indie pop band Chairlift, Something, released in 2012, features the far-too underrated track "I Belong In Your Arms." On it, she sings, "Cause the world goes on without us/It doesn't matter what we do/All silhouettes and no regrets/When I'm melting into you," presenting a very uncomplicated, pure, and almost adolescent expression of desire (so much so, it even acted as the closing song to Season 1 of Netflix's teen drama Heartstopper). But with this purity still comes a sense of maturity. Structurally this song fits the pop mold, but stylistically pulls from more esoteric influences, matching its nostalgic drum machines with hazy synthesizers. Plus, Caroline's vocal delivery is sweet but aggressive, adding some yelps and vocalizations that serve as the dawn of her comparisons to Björk and Kate Bush.
Fast-forward over a decade and Polachek has provided her most developed take on desire on the aptly titled Desire, I Want To Turn Into You, released this past Valentine's Day. She continues to embrace the sleeker art pop sound she debuted on her 2019 album Pang, but now crafts songs with a clearer and more resonate lyrical focus and incorporates some adventurous production choices.
Opening the album up is the immersive "Welcome To My Island." It kicks off with a melodic sweep through her vocal range, like a siren call that pulls the listener into the tide and washes them up on the shore. From here, the song pulls through with a pulsing drumbeat, glittery synths, and distorted guitars, all channeling anthemic 80s pop-rock sans overindulgent pastiche. When the chorus hits, she belts the album's title, adding a sense of urgency to the word "desire" like never before in her career. During the bridge, she speak-sings, "Go forget the rules/Forget your friends/Just you and your reflection/Cause nothing's gonna be the same again," injecting introspection regarding her personal life (including the passing of her father in 2020) into the manic yearning heard later on the album. This opener is more than just a greeting to the LP, it busts open the doors and breaks the hinges like any powerful first track should.
However, the true first taste of this record came all the way back in 2021 with the single "Bunny Is A Rider." Unassuming at first, this song's funky bassline, sturdy drum pattern, and sampled baby giggles becomes more and more infectious with every listen. Lyrically very free-flowing, it plays with the idea of being unavailable, either physically or emotionally. Although written pre-pandemic (and before some of the record's other songs), this theme of wanting independence spoke to many in a time when nobody could disconnect from the virtual world, with media outlets labeling it their song of the summer or even song of the year. Her sing-rapping in the verse gives it a tongue-in-cheek tone but it's in turn grounded by a soaring chorus, once again featuring some impressive vocal abilities. Repetitive in the most enjoyable of ways, it signifies Caroline's ability to make pop music that's both artful and playful.
But by far one of the most intriguing parts of this record is how it blends seemingly contrasting instrumentation into its dreamy alternative pop sound. With the influence of Polachek's eclectic tastes, her frequent collaborator Danny L Harle, as well as guest spots from producers like Sega Bodega and A.G. Cook among others, she crafts a multifaceted backdrop for her musings. From the flamenco guitars on "Sunset" to the glitchy tabla samples on "Billions" and even the bagpipe solo on "Blood and Butter," they tastefully break from convention without sacrificing Desire's consistency. The latter track especially offers luscious textures and melodies, combining organic and electronic elements to build some of the best instrumental ear candy you're likely to hear all year.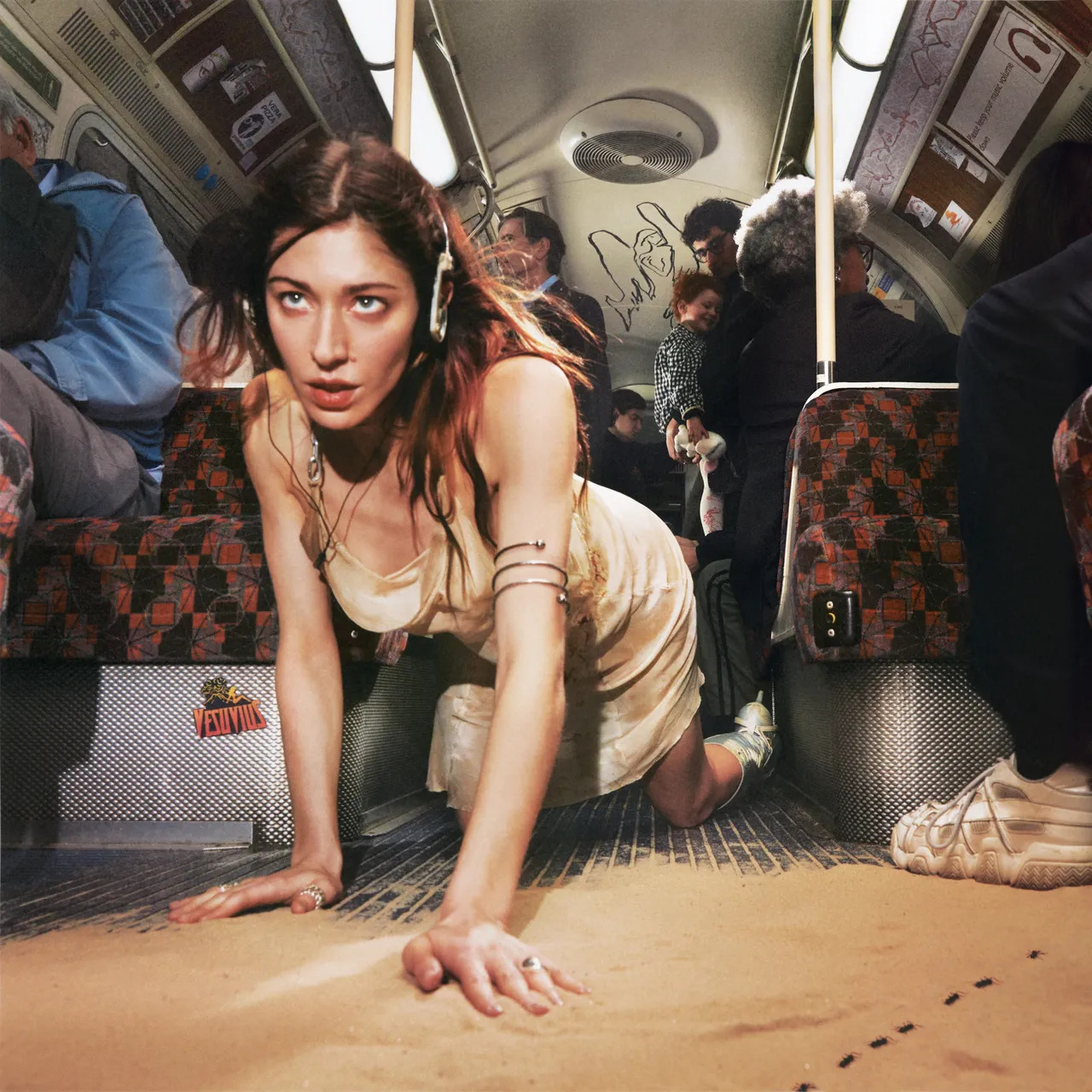 The deeper cuts on this album carry their weight too, packing this album with even more bangers worthy of being standalone singles. "I Believe" balances heartfelt lyrics with an uptempo Y2K dance, as does "Fly To You," which features vocals from Dido as well as one of Grimes' best performances from her current flop era. "Pretty In Possible" and "Smoke" serve up even more undeniable fire, going so far as to borrow the same vocal melody from each other. This melodic gesture furthers this album's well-executed balancing act between individual tracks and the album as a whole, comparable to LCD Soundsystem's usage of a melody in both "Dance Yrself Clean" and "Home" to thematically bookend their record This Is Happening.
Even the more relaxed songs on here find their place despite their songwriting being not as well defined. The greatest elements of "Crude Drawing of an Angel" is its eerie atmosphere, made possible by muffled vocal clips, echoey whistling, and Polachek once again flexing her vocal abilities giving a restrained yet haunting performance. Similarly, her singing is front and center on "Hopedrunk Everasking" and "Butterfly Net," a beautifully melancholic pit stop in the fourth quarter of the record.
Circling back to "Billions," it serves as Desire's closer, once again offering non-linear lyrical focus on how intoxicating abundance can feel. It's hard not to sense how massive this track is, with Caroline's vocal delivery being one of the strongest and most moving of the whole record. This is aided by the closing refrain carried about by the Trinity Croydon Choir, echoing Polachek with the line "I never felt so close to you," repeated angelically as the album closes its curtain. It's a sendoff that perfectly wraps up Caroline's strongest album of her career thus far, and the artist's most definitive consolidation of the themes she's been weaving into her music for over a decade.