Machine Gun Kelly's Mainstream Sellout: Album and Tour Experience
As Machine Gun Kelly concludes his massively successful world tour, it's a good time to reflect on the Mainstream Sellout era and the impact it has had on him and his fans. Many great things came from this era, such as his documentary, Life in Pink, many great new tracks, interviews, and incredible shows. This album gave MGK his second No. 1 album in a row on the Billboard charts, making it the first rock album to hit that spot since 2020. Mainstream Sellout was released on March 25th, 2022, through Bad Boy Records and Interscope Records. Drummer, producer, and king of pop-punk Travis Barker once again collaborated with MGK (real name Colson Baker) on this album.
Starting off as a small and underrated rapper, Colson has gone from 'the guy who tried to diss Eminem' to a full-blown mainstream rock star with a huge fan following. He's relevant, popular, and hated. He's definitely not perfect by any means, but it is incontestable that his music has gathered quite an immense fanbase. Despite having these loyal fans, Colson also receives an overwhelming amount of hate, with claims like 'Eminem made him switch genres,' that he's a 'cringey wannabe rockstar,' and that he's a 'mainstream sellout' (hence the name of the album).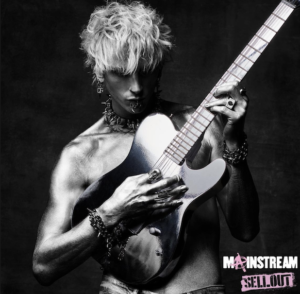 Colson took that hate and created a number one album out of it, which pissed off his haters even more. That's the most punk thing he could do! Colson does not give a single care in the world about what people think; he embraces himself and does whatever he wants no matter what haters say. People also often claim that his target audience is emo teenage girls (which is probably true), but that doesn't mean adults can't enjoy his reminiscent music that has early 2000's vibes. He influences the current generation by showing that you can still be yourself even when you're hated on. He is currently one of the most successful stars in the music business (Billboard says he sold "93,000 equivalent album units earned in the U.S. in the week ending March 31, according to Luminate, formerly MRC Data") even after coming from such humble and cruel beginnings.
It's important to look at the social commentary when discussing this album. I have noticed that a lot of the haters are Blink-182 fans or actual punk fans who claim that Machine Gun Kelly is a disgrace to the genre. What I don't understand is why he is a disgrace when he literally started the pop punk resurgence! Blink-182 is my all-time favorite band, so yes I understand if you have a certain preference for this kind of music, but you have to appreciate what the man has done for the genre. People compare him to sounding like a rip off of Green Day and Blink, which is fair to a degree, but MGK is the face of a new generation's idea of what being punk is. He goes against what society expects, laughs at the negative things being said about him, ziplines hundreds of feet down to the stage, and literally smashes wine glasses over his head during concerts. He is the definition of badass.
Although his second pop-punk album may have had less shock value than the ground-breakingly popular Tickets to my Downfall, it still was successful. The sound of Mainstream Sellout is similar to Tickets with elements of punk, pop, and rap mixed together into a pleasurable, high-energy listening experience. With Travis on the drums, his bold, iconic drumming providing a good framework for the music, the heartbeat of the songs appeals to the listener. Various artists and groups such as Bring Me the Horizon, Lil Wayne, Iann Dior, Gunna, Young Thug, Glaive, and even Pete Davidson feature on some of the tracks. These artists each bring their own talent to the studio and collaborate well with MGK.
The nostalgic sound, relatable, self-deprecating and over-exaggerated pop punk lyrics, and the personal experience and connection these songs had in my life have made the album incredibly impactful to me. I love this album so much that I have it on CD, as well as special edition vinyl, with tons of Machine Gun Kelly merchandise to go with both. It was the soundtrack to such a bittersweet and beautiful time in my life. The whole reason I listen to music is because of the nostalgia I feel when I hear it as it takes me back to a certain moment, era, feeling, or person. It's like the notes physically shift my consciousness in time. This album takes me back to a good, bittersweet era from this past spring.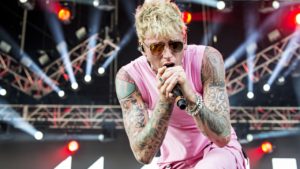 Instead of going over Mainstream Sellout track-by-track and giving a summary of each song, I think it is more impactful to look at the personal connection, lyrics, and themes of rising above the haters, recognizing the importance of mental health, and feelings of intense love and loss.
Colson's suffering mental health and its association with fame is explored in depth on the album. Tracks like "born with horns," "god save me," the title track "mainstream sellout," "5150," "die in california," and more heavily weigh in on this theme. "Maybe," "make up sex," "fake love don't last," "sid & nancy," " twin flame," and additional tracks reflect on the idea of undying, ethereal love; it's the kind of love that transcends time and space, but only ends up hurting due to its defiance of fate and what is predestined.
My top three songs all revolve around this theme of undying love. Obsessive love is central to "Sid and Nancy," a song about the musician Sid Vicious and the theory that he killed his lover, Nancy Spungen, and then himself. Lyrics such as "Write it in blood and we both sign. Sid and Nancy, a murder suicide. These are her words and mine" express how insanely out of our minds love and obsession make us and how these feelings can go even beyond death. My favorite lyrics in the song are "We cannot hide the secret anymore. I'm inside, I'll let you take control. Once we met, I cannot love someone again. Cut my chest, gave you my heart and soul." That's the true drive of what it's like to have a twin flame (there's love, and then there's having a twinflame.) Colson expresses this concept so well as he uses his flame (and girlfriend), Megan Fox, as the muse for my top three favorite tracks.
My second favorite, "More Than Life," is a song I have replayed the most out of any Machine Gun Kelly song. In "More Than Life," which features an underrated artist named Glaive, the two sing about how they need their lover more than life itself. The chorus plays, "I'm trying my best not to open up my heart. It's been torn apart too many times, but without you, I'd die, and I don't wanna die." There's three versions of the song: the released version on the album, the demo, and the live version. The live performance is such an incredible performance due to the raw emotion and energy between Colson and Glaive when on stage.
If you're somehow fortunate yet cursed enough to experience having a twin flame, then you'll deeply resonate with the final song on the album."Twin Flame" starts off softly with guitar and ends with a huge surge of energy and emotion that ends the album perfectly and translates the feeling of pain when apart from your twin flame very well in sound. The lyrics, "In this film I know, there's no happy ending. Go to sleep. I'll see you in my dreams. This changes everything. Now I have to set you free" end the album on such a dark note, but it's just so good. This phrase "In this film I know, there's no happy ending" is mentioned in the first track, "Born with Horns", and then comes full circle at the album's end. For this song to resonate with me so deeply shows the talent that Colson has.
I attended concerts during both the Tickets to My Downfall tour and the Mainstream Sellout tour. I have been to many concerts, but the show I went to in Camden, NJ for Mainstream was hands-down the best concert experience I have ever had. Colson came down dangling from a ladder on a helicopter, got all up close and personal with the fans, climbed the concert frame structure, and put forth his best and wildest energy. It's something that everyone who attended will never forget. The special effects were incredible. There were huge bursts of fire, insane strobe lights, a deep, vibrating bass in the music, giant robots and inflatables, and outstanding visuals. The mosh pit was filled with friendly, energized fans who connected with me over our love for his music. He toured with Travis Barker (against doctor's orders), Avril Lavigne, Willow, BlackBear, Trippie Redd, and more.
The most memorable thing about the Mainstream Sellout tour was that I actually met Machine Gun Kelly later in the night. He was standing outside his tour bus wearing a spa facial mask, and I ended up getting to hold his hand and arm. The whole experience was something I will always remember, and this album is one that I will hold close as well. As this era ends, a new one begins; MGK has announced a new hip hop rap album coming out in early 2023. I'm excited to see which direction his music will go in and how he embraces himself further.