Montero Review: Lil Nas X Delivers Style and Substance in His Debut Album
In March of 2019, an independently uploaded song from an unsigned artist, propelled by the popularity of the #Yeehaw Challenge on TikTok (where users consume "yee yee juice" and transform into cowboys), entered into the Billboard Hot Country Songs chart at number 19. It grew so popular that radio stations were forced to rip the audio from Youtube in order to air it. The song was the country rap hit "Old Town Road" and the singer was a 19-year-old Soundcloud rapper from Atlanta, Lil Nas X, who, days later, would sign with Columbia Records.
Billboard would quickly remove "Old Town Road" from the country charts, claiming that it did not qualify as a country song. The decision was regarded with much skepticism and suspicion, given that Lil Nas X is black, and country music is overwhelmingly dominated by white artists, but even with the support of Billy Ray Cyrus in the form of a remix, "Old Town Road" never reentered the country charts.
On the Billboard Hot 100, however, "Old Town Road" topped the charts for a record-breaking 19 weeks. Then, in the midst of his newfound stardom, on the last day of Pride, Lil Nas X came out as gay on Twitter, alluding to the lyrics of his song "C7osure" as well as the album artwork for his EP, which featured one skyscraper (out of an entire city skyline) lit up in rainbow colors.
In "C7osure", Lil Nas X sings: "True say, I want and I need/to let go, use my time to be free… Ain't no more actin' man, that forecast say I should just let me grow… I set boundaries for myself, it's time to cross the line". That message and desire for self-growth is one that easily resonates with listeners – and it's also not specific to being queer at all.
The circumstances of Lil Nas X's coming out are uncomfortable: following his collaboration with Cardi B on the song "Rodeo", Barbz (fans of Nicki Minaj, who was feuding with Cardi B) began attacking him and questioning his sexuality. Lil Nas X had previously been linked to running a popular Nicki stan account, @nasmaraj, before it was suspended, and although he refuted the connection, he came out shortly afterwards. In 2020, when asked why he denied being a Barb for so long, Lil Nas X responded that he was afraid people would think he was gay if they knew he ran a Nicki fan page. For him, coming out had never been the plan; instead, it was a secret he intended to take to the grave.
I want to take the time to say that I am not here to criticize the way someone comes out. There is no right or wrong way to come out, nor is coming out a necessary step in validating your sexual orientation. I am concerned, however, with queer representation in wider culture. Nowadays, brands are more than happy to paint themselves rainbow-colored for the month of June in order to court the fast-growing market of LGBTQ+ consumers, but the pride flags go away as soon as the calendar turns over into July. Queerness is more present in media than ever before, but explicit mainstream representation is so often shied away from, in favor of a generic, palatable suggestion of queerness that can easily be handwaved or censored without impacting the story. I mean, at this point, I think I've lived through at least five separate announcements of Disney's "first gay character". Count 'em: Artie (John McCrea in Cruella), Lefou (Josh Gad in Beauty and the Beast), McGregor Houghton (Jack Whitehall in Jungle Cruise), an unnamed man played by Joe Russo in Avengers: Endgame, and two unnamed women kissing in the background in Star Wars: Rise of Skywalker. Great work, Disney.
I'm not looking for queer tolerance anymore; for quiet acceptance from the masses, as long as I toe the line and keep on acting 'family friendly'. Let me be queer.
In 2021, Lil Nas X is "unabashedly" gay. He's loud about it, he won't stop referring to himself as a power bottom, and he won't dress it up in metaphor when he sings about it. When Lil Nas X first came out, fans began theorizing whether "I'm gonna ride 'til I can't no more" from "Old Town Road" had sexual undertones to it. When Nas wants to talk about sex, he'll let you know, like in the second verse of "Montero (Call Me By Your Name)": "I want that jet lag from fucking and flying/Shoot a child in your mouth while I'm riding". It's all overtones now.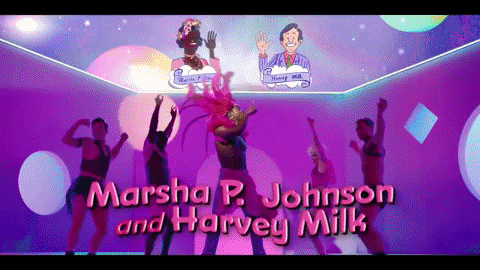 That matter-of-fact attitude is what carries Montero for me. The album itself is fairly short and sweet: 15 tracks, one of which is a skit rather than a song, culminating in just over 40 minutes of the polished, highly produced, genre-bending music Lil Nas X and producers Take a Daytrip are known to deliver. The first half of the album is the stronger; in particular, the first four tracks are as solid openers as you can get, and they keep the energy focused while still remaining musically distinct from each other. INDUSTRY BABY (feat. Jack Harlow), SCOOP (feat. Doja Cat) and DOLLA SIGN SLIME (feat. Megan Thee Stallion) are brash and braggadocious and a tad formulaic, as Lil Nas X and a guest rapper trade off boasts and mock the people who underestimated them; not my favorites, but certainly fun.
As for the latter half of the album – I wouldn't want to say that it lags, because every song does have something worthwhile in it (in fact, let me stop a moment and wax lyrical about Lil Nas X's falsetto in the choruses during VOID; generally, his vocals, while expressive and consistent, are not the main draw of any Lil Nas X song, but here, he tries something different from his usual delivery, slipping into his higher register with beautifully vulnerable results), but the energy does decrease, or at least, turn somber as the focus grows more introspective.
Ultimately, despite some unevenness, Montero is far beyond what I would have expected from a debut album. Lil Nas X excels at both ends of the spectrum, both large and small, grand and intimate, as he explores his struggles with fame and his sexuality, and where they intersect. Montero isn't a celebration of being gay – there's no grand statement that Lil Nas X is trying to make – it's just simply, intimately, explicitly queer.
Album Faves:
MONTERO (CALL ME BY YOUR NAME): The opening track, which also serves as the lead single of the album, is the best of Lil Nas X. The flamenco beat, the syncopation, the humming chorus; there is no part of this song that I do not love. My only criticism? Wish it was longer than 2 minutes and 17 seconds. It feels like we're owed at least one more repeat of the chorus. At least we have Satan's extended version.
DEAD RIGHT NOW: You are not immune to the Hallelujah chorus in "Dead Right Now". It's a tall order to follow up "Call Me By Your Name", and at first, "Dead Right Now" seems like it can't quite hold onto the energy of the opening track, the deep thudding beat just a tad more plodding than I expected, although the blazing trumpets did catch my attention. Then, about halfway through, the song swells as Lil Nas X is joined by a soaring background choir, and it takes your breath away.
THAT'S WHAT I WANT: Musically, "That's What I Want" is the most upbeat song on the whole album, but it comes with a whole lot of queer yearning. "It don't feel right when it's late at night/And it's just me and my dreams" are lyrics you can scream-sing along with. Some may find this track too trite, too shallow – so what? There's just a fierce pleasure to hearing Lil Nas X plainly sing about how he "need[s] a boy who can cuddle with [him] all night". I'm also a sucker for well-timed curse words, so Lil Nas X punctuating "I want someone to love" with "that's what I fucking want" means this song has nearly everything I need.