Pop Playback: September Roundup
Nowadays, the world moves at a frighteningly fast pace. Unless you're plugged in 24/7, there's no way you're getting all the latest news, memes, or intolerable Twitter discourse. Still, nobody wants to be left out of the know – so if you've got the FOMO, we at Halftone have got your back. Here are some of the biggest hits in pop culture from the month of September 2021. Let's play it back:
Music
Broadway Reopens
When Broadway first shut down on March 12, 2020, the assumption was that the suspension would last about 32 days – more than a year later, Broadway finally reopened on September 2, 2021, with Anais Mitchell's Tony award-winning Best Musical of 2019 Hadestown leading the rest of the shows. With Broadway back, the Tony Awards finally settled on a ceremony date of September 26, as well as a runtime of four hours, even with a very slimmed down list of nominees. Only three musicals (Moulin Rouge! The Musical, Jagged Little Pill, and Tina: The Tina Turner Musical) qualified for any awards, given that no musicals premiered (or were performed) at all during the 2021 season, and Aaron Tveit got the entire category of Best Actor in a Musical to himself, for his role as Christian in Moulin Rouge! The Musical. There was a slim chance that he could actually not take the award home, if 40% or more of the Tony voters decided not to vote for him, but thankfully, things shook out in his favor.
Montero
In what has to be the quickest pregnancy ever, Lil Nas X spent 12 days showing off his baby bump on Instagram to finally reveal his debut album Montero on September 17. The 22-year-old rapper has been at the center of a shitstorm since – well, ever since he first went viral with 'Old Town Road' back in 2019, but the open hostility and rampant homophobia has peaked since the release of the "unabashedly queer" "Montero (Call Me By Your Name)" music video, where Lil Nas X is cast out of the Garden of Eden, descends to hell, seduces and kills Satan, and takes over the throne. Lil Nas X also launched a baby registry website, at the same time as his album, featuring 16 charitable LBGTQ+ and human rights organizations fans can donate to.
Read Halftone's review of Montero here.
TV
Emmys
The Emmys returned to being hosted live and in-person this year, despite the ongoing global pandemic. Ted Lasso and The Crown were the biggest winners that night, and Michaela Coel became the first Black woman to win the Outstanding Writing for a Limited or Anthology Series Emmy for 'I May Destroy You'. In one of the shortest – but most memorable – speeches of the night, Coel spoke to all potential writers in the audience, urging that although "visibility these days seems to somehow equate to success. Do not be afraid to disappear – from it, from us – for a while, and see what comes to you in the silence." However, despite Coel's historic win and despite a diverse list of nominees, no actors of color won any Emmys that night, once again calling into question Hollywood's longstanding inclusivity issue.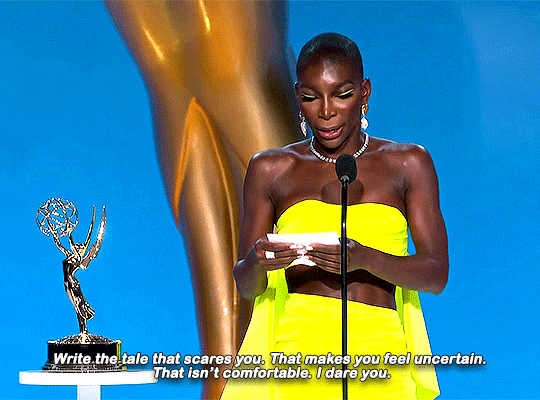 New Releases to Watch For
Season 3 of What We Do in the Shadows, the FX horror-comedy vampire mockumentary series based on the 2014 film of the same name, premiered on September 2. Fans of the show will be pleased to learn that a fourth season had already been ordered, even before the premiere.
Netflix released Squid Game on September 17, and the South Korean survival drama quickly went viral, going on to replace Bridgerton as Netflix's most streamed show. Both brutally violent battle royale and an unflinching depiction of the economic inequality plaguing South Korea, director Hwang Dong-hyuk's critique of global capitalism resonated with audiences around the world, despite lackluster subtitles failing to deliver on cultural nuances. Interested in learning more? Head over here for more facts about the show!
On September 22, all nine episodes of Star Wars: Visions, an animated anthology series, aired on Disney+. Seven Japanese anime studios were contracted for the making of this series, and all creators were given free reign to create new stories within the Star Wars' universe.
Shows We Said Goodbye To
Lucifer has finally been granted eternal rest: Netflix dropped the sixth and final season of the fantasy crime procedural on September 10. The road to hell was paved with complications: before its very first episode premiered, protestors were already calling for a boycott of the series, claiming that it glorified the devil; then, at the end of three seasons, fresh off a huge cliffhanger, Fox canceled the series due to consistently low ratings (thankfully, a fan-powered campaign to save the show got the attention of Netflix, who picked it up a month later); then, production was delayed due to the pandemic. The sixth season was a surprise renewal for both fans and writers, who had expected Lucifer to end with Season 5. Was that a blessing or a curse? Here's Halftone's take on the last season.
After likewise surviving a cancellation and the move to a new network, Brooklyn Nine-Nine finally ended its eight-year and 153-episode run on September 16. Created by Dan Goor and Michael Schur, the single-camera sitcom about the work and lives of a team of NYPD detectives at Brooklyn's 99 Precinct was much acclaimed for its portrayal of LGBTQ+ characters. Following the murder of George Floyd, the show scrapped four episodes from their original Season 8 plans, rewriting them to address police brutality and taking responsibility for their part in the biased portrayal of police in American media.
Video Games
Deltarune 2
Three years after the release of Deltarune Chapter 1, and six years after the release of Undertale, the game that started it all, creator Toby Fox dropped Deltarune Chapter 2 for free in a surprise announcement on September 17. In his status update on the game website, he shared his reasoning for doing so:
and laid out his plans to release the game once Chapters 3, 4, and 5 are complete. An RPG bullet-hell like its predecessor, a subgenre of shooter where every combat scenario involves increasingly complex projectile patterns, Deltarune also displays the snappy, self-aware, absurdist humor that made Undertale such a cult hit. Ever patient and ever passionate, fans crashed Itch.io servers in their rush to download and play the new update.
Film
Malignant
Originally slated for release on August 14, 2020, Malignant eventually received a dual theatrical and streaming debut on September 10 of 2021, after a delay of just over a year due to the pandemic. Directed by James Wan of Insidious, The Conjuring Universe, and Aquaman fame, Malignant is "a bonkers, over-the-top triumph of gory camp and melodrama", promising the perfect kind of chill for the cooling autumn days. Read the rest of our Malignant review here.
Super Mario
The latest Nintendo Direct announced the cast list for their animated Super Mario movie coming next Christmas in collaboration with Illumination Studios (of Minions fame), with Mario creator Shigeru Miyamoto revealing (with a black and white picture that looked suspiciously like an in memoriam tribute) that the titular Italian plumber will be voiced by none other than Chris Pratt, well-known "Non-Italian Non-Plumber". Pratt took to Instagram to confirm the news and reassure flummoxed fans by sharing the story of how he would steal coins out of wishing wells as a child to play the Super Mario Bros arcade game. The movie will also feature Charlie Day as Luigi, Anya Taylor-Joy as Princess Peach, Seth Rogen as Donkey Kong, and Jack Black as Bowser. Charles Martinet, who originated the role of Mario, is set to cameo in the film. This cast reveal is simply the next in a troubling trend of Hollywood prioritizing well-known celebrities over actual, trained voice actors. Jack Black can stay, though.